Big John: world's largest Triceratops skeleton sold for $ 7.7 million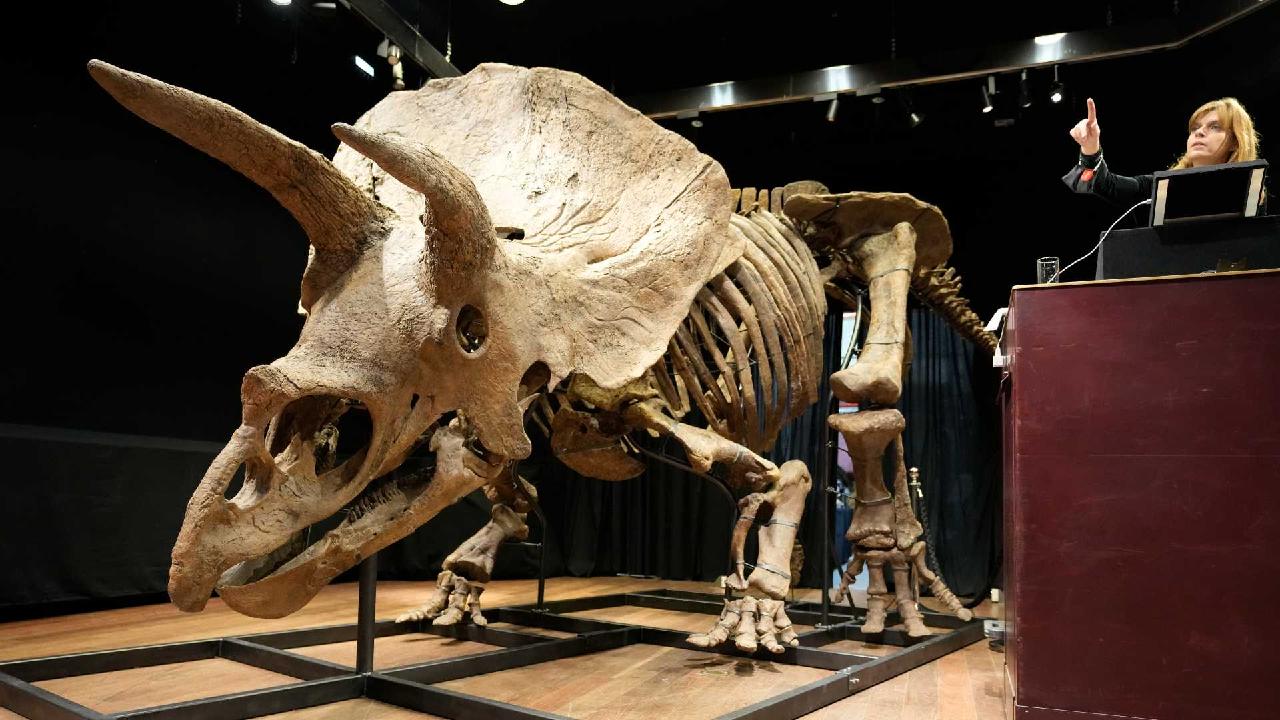 The world's largest Triceratops skeleton was sold in Paris for $ 7.7 million to an American collector.
The dinosaur remains had a ticket price of $ 1.7 million at Thursday's auction, but were more than four times that estimate.
Nicknamed Big John, the skeleton was found in South Dakota, United States, in 2014 and is 66 million years old. The find has been described by paleontologists as a miracle of nature and a work of art.
The skeleton is over 60% complete, with a skull 75% complete.
What is a triceratops?
– The triceratops is one of the most recognizable dinosaurs because of the three horns on its head (its name means "three-horned face").
– He also had a distinctive huge bone collar.
– Despite its fierce appearance, the animal was a herbivore.
– They lived over 60 million years ago.
– Big John was found bearing notable scars believed to have been inflicted by another of its kind, possibly during a battle for territory or a companion.
– The skeleton is 8 meters long and its skull is a quarter of the animal's length.
– The huge skull weighs 700 kg.
Dinosaur rich area
Big John's remains were discovered in a single layer of fossils in a relatively small quarry on private land in Mud Butte Ranch, South Dakota, in 2014.
The Big John excavation was completed over a year later.
The bones were brought back to Italy at the Zoic workshop, by specialists in the restoration of prehistoric skeletons.
The area where the skeleton was found is part of the Hell Creek Formation, a division of rocks in North America dating to the late Cretaceous around 65.5 million years ago.
It was deposited as coastal plains sediment during the retreat of the shallow Cretaceous seas that covered much of the interior of western North America.
The area has been a rich hunting ground for paleontologists – with other skeletons of triceratops, the fossilized remains of tyrannosaurs (perhaps the most famous of all dinosaurs), ankylosaurus (a small armored dinosaur) and Pachycephalosaurus (an unusual two-legged dinosaur with a bony dome on its head) have been found in the area.
In the Hell Creek Formation, most known quarries produce very disarticulated or separated specimens, while the Big John elements were still partially articulated at the time of discovery.
Cover image: François Mori / AP